Pandemic Emergency Ends, But Covid Continues —and So Does Research
East Rock Record Reporters Interview N.I.H. Head
The Covid Public Health Emergency officially ends this month, but Dr. Lawrence Tabak, acting director of the National Institutes of Health, told East Rock Record reporters that scientists are still trying to figure out how to help people with "long Covid." The end of the public health emergency, he said, means that, for example, government will no longer pay for Covid testing. "People will be more dependent on health insurance," he said.
In a 40-minute press conference over Zoom with Record reporters, Dr. Tabak, answered questions about the development of the Covid vaccine, what it is like to work with U.S. Presidents, how the N.I.H. works, what his daily schedule is like and what it takes to become a scientist. Students were most awed by Dr. Tabak's own research about saliva, which captured a lot of attention.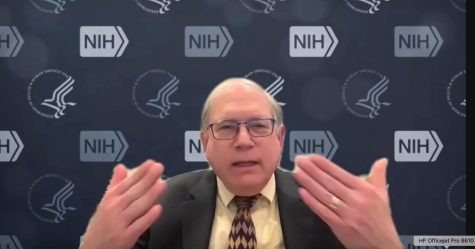 In response to a reporter question, he also shared breaking news about new N.I.H. research showing that a better treatment for babies born to mothers addicted to narcotics is not to give them drugs (what is now done) but to provide them attention and care.
"What this study has shown is that you don't need to use other drugs, you can be attentive to the babies, you can swaddle them," he said, explaining that this means to "wrap them in a blanket and hug them and make sure they are well fed." The approach, "will now be adopted in hospitals all over the place and as a result, the babies will be helped much more rapidly."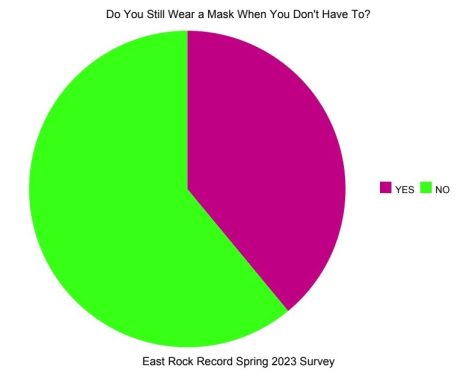 Following the press conference, reporters recorded their impressions. Here they are:
We interviewed Dr. Larry Tabak, the acting Director of N.I.H., who mentioned that he works with other countries and their leaders. Recently, he met with the Prime Minister of Health from Thailand. He doesn't just focus on United States of America. He works with people from all around the world on worldwide health problems. We expected him to be just focused on the U.S.A. He also worked with some of the people who helped create the Covid vaccine. He didn't directly work with the vaccine, but worked with many of the people who were directly working with the Covid vaccine. He is a very interesting person and we were happy to meet and interview him. — Nayala Conroe and Aarav Lemar
Biosynthesis sounds insanely interesting and I did not know that Dr. Tabak was the replacement director for N.I.H., though in my defense I only listen to that type of news occasionally because I am just a kid/preteen. It's cool as well that I just talked to the bleeping director of NIH and we had a conversation!! He was very impressive and had very lengthy answers. This was also my first interview with a prominent government official. — Haven Pickett
What I found interesting about the interview was that Dr. Tabak's meeting with a group from Thailand and that Thailand and the United States would work on a vaccine. Another thing that I enjoyed was that he studied spit. One more thing I enjoyed was that he organizes his meetings. — Autumn Dixon-Shaw
What is interesting was that Dr. Tabak talked about what or how to be successful as a scientist and that you have to know how to put pieces together. Science is based on math and figuring out. "Why something that way?"  That was very interesting. — London Ingram
For students who want to be scientists, Dr. Tabak suggested they take all their studies seriously. He says that on top of having good mathematics and scientific skills, reading and writing is just as important because scientists are always reading studies and drafting new ones.  Dr. Tabak told us that behavior is very important to good health. He advises students to be conscious of what they're eating, and to stay away from snacks that are either too salty or too sweet. Instead, they should remember to eat vegetables with every meal to ensure a healthy lifestyle. — Sahil Lemar and Eleanor Matz
Dr. Tabak's response to my question about what research he was most interested in was quite intriguing. He started explaining his favorite research and what he had learned about that research. It was brand new research that was just about to be published. He explained the study that was about the fact that if a mother were addicted to any kind of bad substance such as alcohol, or any sort of drug, that their soon child could be addicted in the future. To help the child the best, they don't really need any type of any other drugs. — Marlin Rodriguez
What I found interesting was that Dr. Tabak studied spit. Another thing I found interesting was hearing Dr. Tabak talking about his N.I.H. team and what they talked about. He also explained his schedule and it sounded interesting. — Kendall Walker-Gurley
While interviewing Larry Tabak I learned that he is not the permanent director of N.I.H. and that he is the acting director. Another thing I learned is that he used to study spit! That is so cool I have always thought spit is interesting and hiding secrets that could save the world. — Tusker Pickett
What I found interesting about the interview was hearing about Dr. Tabak's job and his day schedule. And also that he got to do important research. Another thing was that he worked with a leadership team at the N.I.H. One thing that was my favorite interesting part of the interview was that Dr. Tabak got to study spit. And he told us facts about Covid. — Jade Kinlock
I think that the interview was very good, it was very informative and very helpful to me and the paper. It was also very interesting to see a person who has been working with the President. But the thing I really liked about the guy is that he used to study spit. — Charlie Pellegrino