Principal's Message
Dear East Rock School Community,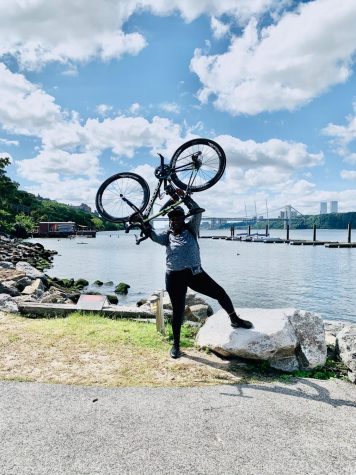 I am thankful for your resiliency!  Our entire community has reaffirmed my feelings! East Rock Community & Cultural Studies Magnet School is the best school community to be a part of in the entire state of Connecticut.  Community members can be counted on — and never count them OUT!
The Covid-19 pandemic has thrown many challenges in the paths of educators. East Rock School is not exempt, but our community members have risen to the top.  Our dedicated educators have planned some of the most engaging lessons of their careers.  Teachers have learned new platforms on the fly in order to create and monitor crucial interventions for our students. Staff have given up personal time to tutor students after hours.  Educators are working together to serve our students.
Our students have shown how resilient they really are.  Our in-person learners are incredible.  East Rock scholars arrive on time, prepared and ready to learn.  Remote learners stay engaged and enthusiastic throughout the day.
Support staff have thrown all hands-on deck!  They have fulfilled their job requirements while also helping with arrivals, dismissals — even lunch.  Our tutors and paraprofessionals have been flexible.  They have given up prep time and changed their schedules to supervise learning spaces and support instruction. Without our tutors and paraprofessionals this year, things would have been very different.
Our new nurse had huge shoes to fill. Our last three were ranked among the best in the state. Luckily for us, Nurse Blocker has met all expectations and even exceeded some. He comes in with a smile and uplifting thoughts to keep us all motivated.  East Rock is blessed to have such a dedicated healthcare professional as part of our team, ready to assist in any way that he can.
Community members can be counted on — and never count them OUT!
The food service staff, led by Head Chef Gloria, works with the administration and teachers to provide nutritious meals for our in-person learners and some remote learners.  Meals are served at the appropriate temperature and meet CDC protocol guidelines.
The custodial staff, led by Jay Bettencourt, has been so responsive.  If we call, someone is available to support staff with what is needed.  I am so grateful for Jay and his entire team.
I would also like to thank Ms. Linda, our Administrative Assistant for all that she does to keep the school running smoothly. She handles parent, teacher, and staff requests with grace. If something needs to be done, she makes sure it happens.
I would like to thank our small but mighty PTO for its resolve.  The PTO has planned and supported several events and initiatives for students and their families over the last 15 months.  Each member is appreciated and valued, and we would not have gotten through the year without East Rock's PTO.
Finally, I would like to thank Laura and the entire East Rock Record for finding a way to bring our readers this Spring issue despite the challenges and mitigation strategies set forth by the district, area colleges and the CDC.
I hope you all enjoy this issue, and I cannot wait for things to get back to normal.
With gratitude and hope,
Ms. Breland