Everyone Knows It's Hard to Be The New Kid. What Can You Do About It?
A student's first day in a new school can feel like a nightmare.  
Imagine walking into the cafeteria or going outside for recess, feeling completely alone while other students laugh with friends.  
It is hard to jump into a conversation, especially if you feel sad, anxious or shy. This is why many new students end up sitting or playing alone for a large part of the school year. 
At East Rock Community& Cultural Magnet School, this happens more often than you might think.  
The East Rock Record Spring 2020 Survey found that 27 percent of respondents said they came to our school after kindergarten. Some moved here from nearby towns. Others moved from places far outside the U.S. The reasons for moving vary, but all new students face challenges in a new place. 
When Karina De La Cruz, a 5th grader who moved here from Hamden at the beginning of this year, came to East Rock School, she worried "that no one wanted to be my friend."  
Those feelings affected her physical well-being. "For a long time," she said, "I felt sick around new people. I was always nervous and hated recess." 
Expert educators agree that new students struggle with adjusting to a new place, especially when they don't know people there. One teacher aide at East Rock School who has moved several times said that "constantly having to meet new people, leaving behind what you are comfortable with and being surrounded by new people and new stuff, is a lot of getting used to."   
"For a long time I felt sick around new people. I was always nervous and hated recess." 
It can be especially hard move from far away. Some students at East Rock School have come from as far away as Columbia and New Zealand.  
Some who have come to New Haven have been attracted to the city's welcoming of immigrants and because it is a "sanctuary city," whose policies protect people from other countries, including those without documentation. As a result, a school like East Rock must be prepared to help new students. 
Coming here from distant places can be hard, said Bhatai a manager in the education department of New Haven's Integrated Refugee and Immigrant Services (IRIS) who goes by a single name and is from the Congo.  
When he first moved here in 2016, he felt unfamiliar with things like the weather, food and habits of Americans. All these small things, "when you put it together, it is overwhelming," he said. "It is kind of traumatizing." 
East Rock School students who moved here from other countries agree that adjusting to the small changes in culture is difficult.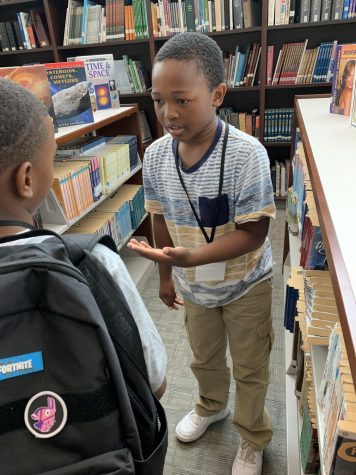 Sixth grader Valentina Prada, who moved from Bogota, Columbia three years ago, said, "I didn't know the language and had to learn English. I only spoke Spanish."  
In addition to learning a new language, Ms. Prada faced other difficulties, including that her large family all shared one room, and that she moved between four schools in three years.  
Whether people move from the next town or from another part of the world, they must decide what things to bring with them. Christine Saffioti, a food service worker at East Rock School, recalled difficulty of packing. She remembered "throwing away sentimental stuff. I had to decide what to take and what to leave behind. What comes and what goes — that is challenging."  
When she came from Columbia, Ms. Prada brought a backpack that her grandmother gave her. She still uses it to carry her books and pencils at school. "I had a lot of toys in Colombia that I couldn't bring," she said. "But the backpack from my grandmother was the most important thing."  
Moving means leaving behind people as well as belongings.  
"I miss my grandmother," said Ms. Prada. "She was like my mom."  
Ms. De La Cruz also misses people from her hometown. "Whenever I want to see my best friend, I have to drive for 30 minutes. It used to be that I could just walk down the street," she said.  
Even though Ms. Prada and Ms. De La Cruz moved very different distances to come to New Haven, both miss the people and places left behind. Teachers at East Rock School try to be sensitive to the difficulties that new students face. 
"Even if they look happy, they could be sad and lonely. Always try to make everyone extra happy!"
"It is important to make them feel welcome without making them the center of attention," said paraprofessional and after school program aide Mike Esposito. "There needs to be a balance of sharing and being friends and also letting them become acclimated."  
When asked what helps when she is nervous or homesick, Ms. Prada said, "People here make me feel comfortable."  
Many students said friends can help you feel happy and excited about coming to school. It doesn't take much to make a new student comfortable. Just walk up to them and start talking! 
Students who are new to East Rock School can also look to teachers for help. "I wish I had known I could just walk up to a teacher and they would help me make friends," Ms. De La Cruz said. "I don't think they should force it, but I think they should be more open about how willing they are to help." 
Fifth grader Keylin Montoya said other changes can also help students feel welcomed, like "making more food from different countries." Ms. Montoya said she would "love to see Guatemalan food in the cafeteria."  
She said everyone should make an effort with hew students. "Even if they look happy, they could be sad and lonely," she said. "Always try to make everyone extra happy!"
Edited by Donya Fegan.