Hungry for Lunch? First, What Is Your Number?
Picture this: you're next in line, waiting for your lunch. You have your tray, but stop and ask yourself: What have I forgotten? 
Then the lunch lady says, "Type in your ID."  Your palms are sweating. Your mind goes blank. Six digits stand between you and your meal.
You could be a new student and not know your lunch ID. You could be a younger student who forgot it.  But if you want to eat lunch at East Rock Community & Cultural Magnet School — or any New Haven Public School — you need to know this number.
The number is actually a student's official school identification number, used for computer access and student tracking. But many know it as the number they need to eat lunch. 
Samantha Naja, kindergarten teacher at East Rock School, said it is hard for her students to remember the number. "It's really difficult," she said, adding that learning it takes work. "I do think they're capable, but it's something we have to start immediately, at the beginning of the year," Ms. Naja said.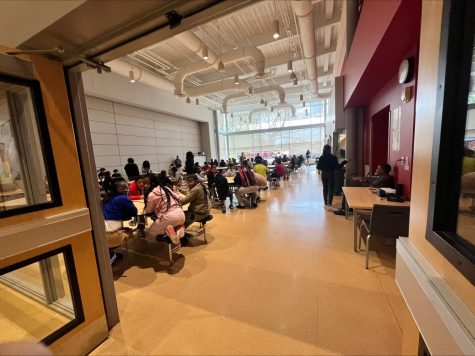 The East Rock School guidance counselor, Monique Holloway, said that "remembering that number can be pretty challenging, especially if you have learning issues." Ms. Holloway said that "there's ways around it, but it would probably just be easier if they didn't have that number."
Some students do have memory issues that make using lunch numbers challenging. Other students easily remember their number by heart because of how often they use it. Some others write it down. 
"My teacher writes it down on a piece of paper so students can do their thing," said Thomas Prada, in fourth grade. He said he does not have trouble remembering his number but said when students forget it can slow things down. "Sometimes it takes a while. One time it took a long time, and we only had like five minutes to eat," he said.  "I really think that they should make lunch a little bit faster and longer."
Still, according to the East Rock Record Spring 2023 survey, about one-quarter of students have forgotten their lunch ID at least once. Some students don't like the lunch ID's because they slow down the lunch line.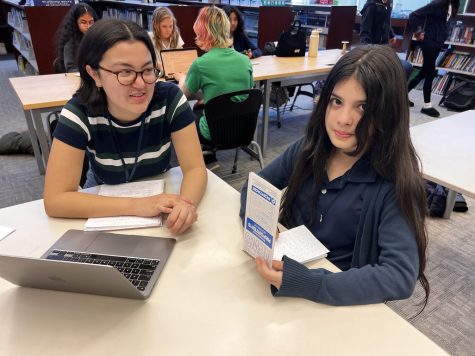 "It really makes the lunch line take a lot longer," said Sahil Lemar, in seventh grade. "And it's harder for everyone to eat and finish their food before the lunch period is up." 
According to the East Rock Record Spring 2023 survey, the 161 students who responded were split on using ID's at lunch with 56 percent saying they liked having them and 44 percent saying they didn't. Schools did not require lunch ID's during in-person school toward the end of the pandemic. 
Fifth grader Leia Vazquez remembers the times before lunch IDs, the break from them, and now their return. "Stopping using the lunch numbers, [the lunch line] got faster and kids would sit down with their friends more," said Ms. Vazquez. "Now going back to it, it takes longer to get your lunch and go back to your table."
So why do lunch IDs exist at all? And what are they? 
Gail Sharry, Food Service Director for the New Haven Public Schools, said that lunch IDs are also used to log into PowerSchool, which tracks student information like grades, Google accounts, tests, and identification across the New Haven Public School system. 
When it comes to lunches, Sharry said the IDs are important for accountability. The numbers ensure that students get fed and parents know that their children received their meals. The numbers also allow the school district to be reimbursed for meals under the federal school lunch program. As Sharry said, the School District is responsible for student accountability and must report how it collects the data. The New Haven Public Schools use a computer software system that includes lunch ID numbers, barcodes on badges and even in some cases, a thumb print. 
The lunch ID number requirements are enforced by the USDA and the Connecticut State Department of Education. Ms. Sharry said enforcement was suspended during Covid and came back at the beginning of this school year, first at the high school level. Some students at East Rock School say they have only used lunch numbers a handful of times this year. 
So, what happens when students haven't memorized their lunch IDs? 
There are three possible situations. The first is that the student goes back to the table and sits down, not getting any food. The second is they go all the way back to their classroom and ask their teacher. But by the time they come back, the kitchen may be closed. Mostly, however, cafeteria workers let students just pass through without using a lunch ID. 
The return of ID numbers is something students notice and talk about. But it is not all that is changing around lunch. According to Ms. Sharry, New Haven Public Schools are now also trying to make food healthier — including vegetarian and vegan options.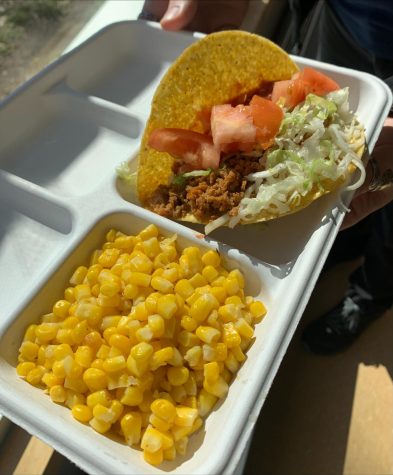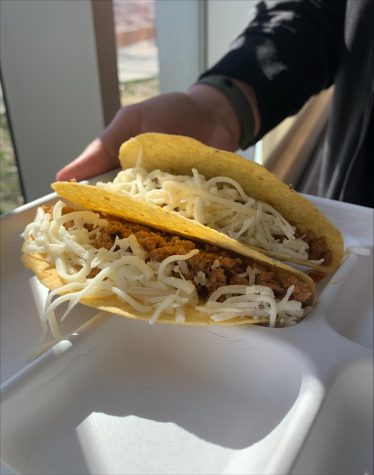 You may have enjoyed a taco recently without realizing that it wasn't meat, but pea protein in that crispy shell. The schools now have a "Meatless Monday" program that uses plant-based foods as meat substitutes, said Ms. Sharry.
"I don't eat meat," said Mr. Lemar. "I think [plant-based alternatives are] a good idea because I know I'm not the only one who can't have meat, whether it's just that you don't want to or your religion… I know it affects some people."
Right now, students don't have a formal way to let Sharry or other food service leaders know their thoughts about menu options or portion sizes. If students agree or disagree on specific aspects of lunch, Ms. Sharry said she would like to know. 
While students we interviewed didn't have a lot to say about Meatless Monday, the move can help students who are vegetarian or vegan, have religious guidelines around food, or just don't like meat. This switch is also more sustainable, investing in plant-based food.
The district is also working to limit food waste, which is a big undertaking that Ms. Sharry said requires help from more than just the food services team. She said groups including the facilities staff, students, and teachers have all offered ideas. Next year, she said, they will be working on sustainability, including limiting food waste, doing more composting and adding more plant-based options. 
Edited by: Abbey Kim