Covid Sent Us Outdoors — Many Want to Stay
Covid was terrible for a lot of reasons. But it did drive us to spend more time outdoors. 
When the pandemic began, indoor spaces suddenly felt dangerous. So, people started meeting outdoors, going for socially distanced walks and talks. If it happened in fresh air, it felt safer. 
As a result, many people discovered (or rediscovered) gardening, hiking and even — despite some chilly weather — dining out of doors. Restaurants, businesses and parks found new ways to bring people together, all outdoors. Parking lots became gathering spaces. Roads closed and parks were packed.
Now, Covid is receding. But people don't want to go back inside.
"Spending time outdoors has now become a part of people's lifestyle," said Brent Peterkin, Executive Director of Gather New Haven. When the pandemic forced people out of doors, he said they fell in love with the nature around them.
"It's just a question of, 'What can nature do?' You will find out that nature can do a whole lot," he said. "Nature can be calming, and during the pandemic this was especially important." 
People also found that being outdoors was fun — and different. According to the East Rock Record Spring 2022 Survey, almost half of students said they picked up a new outdoor hobby during the pandemic, and 84 percent went to more outdoor dining restaurants. 
Now Covid is lifting, but people still want to be outdoors for learning, fun — and dining. During the lockdown, dining outdoors got popular. Many want to keep eating outside, including restaurants. When businesses were forced to close down indoor service, "outdoor dining was very important for them," said Keyri Ambrocio, the Public Policy & Strategic Communications Specialist for the Greater New Haven Chamber of Commerce.
Ms. Ambrocio is among those advocating at the state level to extend outdoor dining which allows restaurants to take over street areas and parking spaces. "People are kind of just used to outdoor dining as an option now. What we're doing is just kind of trying to make sure that our businesses are being heard," she said.  
At East Rock Community & Cultural Magnet School, people are also now wondering if more learning could happen outdoors. Throughout the year, East Rock School Principal Sabrina Breland, has urged teachers to give students many mask breaks outdoors during the day. Students are still required to wear masks at school.
Giving students time outdoors has "so many benefits," said Ms. Breland. "Students are able to get out there and form relationships, socialize with one another, problem solve together, play together, take turns. And vitamin D is something that we all need."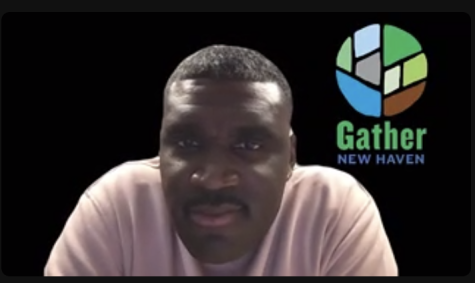 Mr. Peterkin said that just spending time outdoors in nature helps with wellbeing. "Just getting people outdoors to spend time soaking in some sun, breathing some fresh air and just taking their minds off of things can be very, very helpful," he said. "It gives you a sense of peace." 
In some ways, Gather New Haven seemed made for the pandemic. It was created on January 1st, 2020, when the New Haven Land Trust merged with New Haven Farms, forming Gather New Haven. As the pandemic set in, Mr. Peterkin saw demand for the group's outdoor spaces increase dramatically. 
"It was overwhelming," he told East Rock Record reporters. "Because of the lockdown, people found their way to parks and preserves. So the foot traffic increased."
Likewise, Shauntasia Hicks, a watershed liaison at Save the Sound, an organization that works to protect the New Haven Sounds and other endangered rivers and ecosystems, noticed people "flocking to the outdoors." The pandemic, said Ms. Hicks, "reminded us what it's like to be outside." 
The pandemic not only changed the way people go about their lives but what they care about. During COVID, Mr. Peterkin said that more people joined community gardens. "People wanted to start growing their own food. COVID made people more aware of why it's important to eat healthy," he said.
New Haven Farms, now part of Gather New Haven, encourages residents to focus on what they eat and where their food comes from. Mr. Peterkin said it can help people with issues related to diet like heart disease, hypertension, and diabetes. 
Mr. Peterkin's passion for the environment started when he was a child. "I'm originally from New York city. I grew up in the Bronx," he said. "Most of the city is concrete, steel and glass." When he was 14, he had an opportunity to work in a forest as a summer job. 
"Spending time in nature for me was very helpful," he said. He hopes that same excitement will catch on with students in New Haven.  "I want other young people to have opportunities to connect with nature that hopefully will provide them with memories and inspirations that will last a lifetime," he said. 
Mr. Peterkin has a vision to expand Gather New Haven, not only to clean up nature preserves and open them to the public, but to better connect organizations in the city. Community gardens, he said, are one way to do that.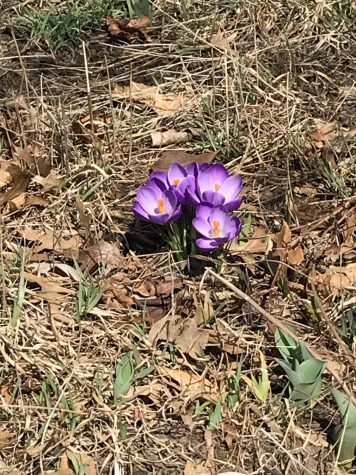 New Haven Mayor Justin Elicker, who previously led The New Haven Land Trust, likes seeing residents spend more time outdoors enjoying nature because it makes people healthier, physically and mentally. 
 "There's a lot of evidence that says, if you spend a lot of time outdoors and in nature, you're going to be happier," he said. Mr. Elicker said that parks are an important resource in the city. Community gardens can be a great tool to better connect schools with neighborhoods and the whole community. He likes how "people really take ownership" of the community gardens.
"One of the things that we want to do is start to work better with our nonprofits that offer a lot of programming in our parks," he said. "There's a lot to learn from the outdoors."
Edited by Rachel Calcott.