Mask Mandate Lifting: Good Idea?
Three East Rock Record students share their views on mask mandates. 
ELICKER RIGHT ON KEEPING MASKED IN SCHOOL
By Sahil Lemar
We are nearing the two-year anniversary since that day when we all were sent home, when we were just hearing rumors about some unknown virus that was changing the world. 
But even after two long and hard years, Covid is still here. It seems that people are forgetting about it entirely. On an average day of school, I will regularly see people without their masks on, at least 15 to 20 times a day. However, now is not the time to be taking our masks off. We are in the middle of a very contagious new variant that is everywhere. Omicron may not be as deadly as the Delta variant, but Omicron spreads dangerously faster and easier. Sadly, Omicron seems to be the least important thing on people's minds, and masks are falling to people's chins.
Mask mandates are also slowly dropping and will be completely lifted on February 28, allowing individual cities to make their own decisions on masks. New Haven Mayor Justin Elicker will keep the mask mandate in schools in place. I personally agree with Elicker on this one and hope to see masks over noses and not under mouths.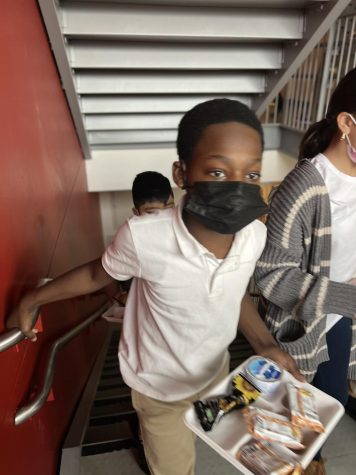 MASKS HINDER STUDENTS WITH HEARING LOSS
By Jade Kinlock
While masks are important for safety, they also make it very difficult to understand what people are saying. There are some students in my class who have hearing loss. When teachers have masks on, it becomes harder to hear what they are saying. Sometimes, they talk too fast, like when they're reading a book. It becomes hard to understand them and learn, especially when they're wearing masks. People also often wear clear masks so that people can read your lips, which makes it easier to understand.
Here are my pros and cons for wearing masks in school. First, the pros. They keep us safe, they have different sizes, and they were made to be super comfortable. However, masks make it hard to hear. They also make it so hard to breathe through, especially when people are sweating or getting breathless under the mask. There are also people who wear hearing implants, glasses and more on their ears. It is not easy to wear masks with hearing implants or glasses. But for our safety, we are wearing masks. I know masks keep us safe, but I think it would be better if we didn't have masks. Also many people might disagree or agree with me. 
KEEPING MASKS ON IS THE SMARTEST CHOICE RIGHT NOW
By Elias Plascencia
Connecticut has decided to end the mask mandate, but I think that we should keep wearing masks. I know it's hard, but it does protect us. I know other places are removing the mask mandates but I think we should keep them because there is a lot of coronavirus. 
There are different variants popping up and it's scary because there could be a variant that is a lot more contagious than the last and I don't want another lockdown to happen. We should keep masks on until different variants stop popping up.
In most states the rates for coronavirus are going up and down, so I think keeping the masks is a great idea and the smartest choice right now. I hope we can take the masks off soon and never have to worry about another pandemic so people don't have to go through all that suffering again and lose all those family members. But for now, keeping masks on is the best and most safe decision.