In-Person School is Back, But How to Help Students Catch Up?
Students are back in class again, at their desks with teachers in front of classrooms. But school is not the same as it was before. For one thing, learning has been lost. 
"Academically, we have a lot of students behind," said Sabrina Breland, principal of East Rock Community & Cultural Magnet School. "The achievement gap we've been trying to close for years has widened."
According to the East Rock Record Fall 2021 Survey, nearly two-thirds of students said they feel behind in school, and nearly all of them are worried about it. Almost 90 percent of students said that teachers were trying to help them catch up.
As students returned in January, they were still aware of the current academic gap. Third grader Haven Pickett said that while a handful of his peers are frustrated and disrupting class, "other students are still trying to learn by reading more and paying attention." 
Teachers and New Haven Public School leaders said students fell behind academically during remote schooling because of technology problems and because for many, learning online is harder than in person. In some cases, students kept their microphones on by accident which interrupted teaching. Some also turned off their cameras and sometimes did not pay attention. 
Ms. Breland said that students "because of connectivity issues, because of device issues, struggled." Some had no way to log on and communicate with teachers and classmates. That made it hard for teachers to explain content to those students.
​​Ivelise Velazquez, assistant superintendent for curriculum, instruction and assessment for New Haven Public Schools, said that even when technology did work, there were problems.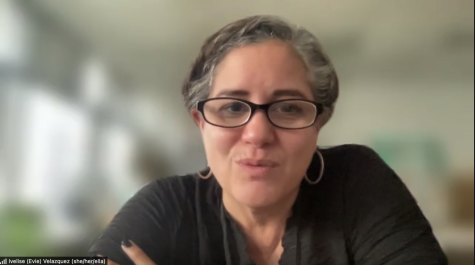 "Both the students and the teachers weren't as familiar with Zoom and Google Meets," she said. "Just navigating was a big challenge." Ms. Velazquez also said that it was hard for teachers to get students to talk and ask questions, which is an important part of learning. 
For some students, it was easier to learn online. Some now are struggling with in-person school. "I'm not used to [in-person school] that much because in 5th grade, half the classes were online, which was a little easier," said Elias Plascencia, a sixth grader at East Rock School. 
However, some students say they are catching up. Nora Matz, in 7th grade, is "doing okay," but noticed that, "in the very beginning of the school year, my grades weren't that good. But after being back in school for eight weeks now, my grades are getting a lot better."
Some students said teachers are using strategies that are helping them get back on track. One thing teachers are doing is putting students into smaller groups to give them specific help. 
"Typically, in lessons you have 20 students in a classroom, everyone's learning together," said Ms. Velazquez. She said they are trying to form groups of just five students, based on academic need, to provide more targeted lessons. Each group focuses on a specific subject area, such as reading level. Students then move based on their progress. 
It's an approach that is new to many teachers, said Ms. Velazquez. "A lot of teachers had to learn to do that, because they were used to working with that whole group model." 
Teachers are also working with parents to help students at home, she said. "During the pandemic, we invested in a lot of online platforms. We still have those in place, and were fully expecting that parents, as homework/additional practice, will use those online resources."
Ms. Velazquez said that students can now access any book in the curriculum electronically. "So you can re-read something or spend more time on something," she said.
Teachers are also communicating with parents via messaging platforms, like Class Dojo. Students can get help from tutors and a Homework Hotline.
Keisha D. Redd-Hannans, assistant superintendent for instructional leadership for New Haven Public Schools, said that everyone has to remember that Covid and remote learning have been hard on everyone. 
"Students really have shown their resiliency during this pandemic by showing up, doing their work, and being present in a remote learning setting as well as a brick-and-mortar setting," she said. "We still have a lot of work to do, but we're proud of our students."
Ms. Redd-Hannans is also proud of how teachers have adapted teaching methods to help students with learning gaps. But there is still work to do. "We're focused on helping students get where they need to be," she said.
At East Rock School, Ms. Kristen Hebert, who teaches third grade, has been doing more teaching in small groups and using morning work and homework to help students catch up. Even though some are struggling, Ms. Hebert said students have not lost everything they knew.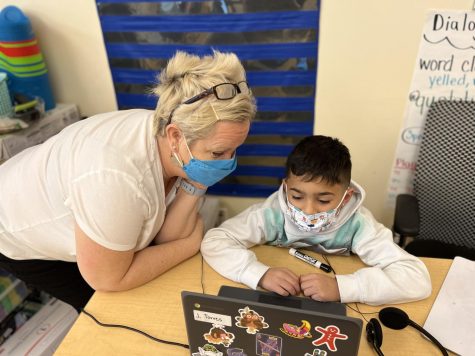 "I don't think they have forgotten it," she said. "I just think they forgot where they put it in their brains." 
Ms. Hebert also emphasized the importance of repetition in her teaching method, as students often need extra time with a subject before they can continue onto the next. "It's about a lot of reviewing, a lot of revisiting things," she said.
To catch up, some students like Mr. Pickett, in 3rd grade,  said that they are trying to keep their classmates and friends from disrupting class so that they can continue to learn. "I am trying to listen and calm everybody down," he said. "I try to be like their friend and say, 'Dude, you should stop.'" Mr. Picketty also said teachers are trying to help trying to learn. "They're giving us harder work that will challenge us."
This is not a regular school year. How much can students move ahead academically? When will things get better? Many questions remain. But Principal Breland is hopeful, saying that faculty are focusing on the challenge.
"We have many teachers who have decided to stay after school to help students catch up, " she said. "Families are able to reach out to their teachers, and teachers are finding many creative ways to help their students."
Edited by Dereen Shirnekhi.