Cade Brown Offers Insights, Inspiration as a Runner and COVID Researcher
By Jade N. Kinlock
Today I discovered that you can do something that makes you feel interesting. I liked our lesson today. I learned that it is always okay to ask for help when you need it and to at least try. And science is completely Awesome and fun! 
By Aarav Lemar
Today I learned that you could test a lot of people for COVID at once. You can learn about a lot of different things. That you can discover that people have covid without testing them! And that science can help you with a lot of things!
By Charlotte Anabelle Martinez
Today I discovered that having someone to teach you something can be valuable to how you work in a certain environment, Cade had one of his professors teaching him the basics of working in a lab. Just one person can change the way that you see labs and scientists. And the discovery of using dirty old water as a way to tell if COVID is spreading, is so fascinating, this research was made by a young college student. This is only the beginning of what young people can do if they really put their mind to it. All you need is a good attitude and a great teacher. 
By Tusker Pickett
Today I learned that you don't have to be an expert to work in a lab. I always thought that to work in a lab you have to be a genius with a Ph.D. But you can be a student who went to Yale to be on the track team, working in a lab and testing stuff in vials with cool machines. 
By Nora Matz
My reflection of what Cade was talking about was interesting. His experiment, which was testing wastewater in areas to see calculations of around how many people had COVID-19 in the neighborhood or town, was useful. Cade had said that it was accurate most of the time. It would be more useful than individual COVID tests, which I agree with. Instead of taking more time to test each person in the area, it could give you an idea of how many people in an area could have COVID or not.

By Elias Plascencia
I already thought that being a college athlete would be fun, but he made it seem more fun by saying it was competitive. And I know that it probably takes a lot of training.
By Zhyaire Cruz
It was very cool seeing how I get my covid test back. Not only that but I was surprised to see how many track races he ran and got a lot of numbers from. It is very fascinating. This is why I kinda want to be a scientist when I grow up. If that fails, I'll be a Youtuber. 
By Haven Pickett
I'm interested in Cade being an athlete because I like skateboarding, mountain biking and soccer. I want to do those sports in college when I'm better at them but right now I need a lot of practice. I'm inspired by Cade.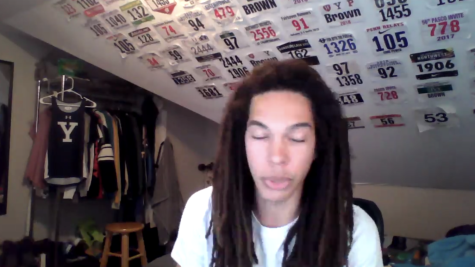 By Jomar Lamboy
I think Cade Brown is a very influential person when it comes to school advice and safety.
I feel that the points that he stated about his early love for running and how fast and strong COVID-19 can travel in our everyday lives. Cade grew up in Washington state and studied at Yale. Since then, he has made amazing discoveries about COVID-19 traveling throughout cities and homes. One of the most interesting experiments was when he and 5 other partners entered a lab and tested city wastewater, and within a couple of days, he was able to identify how many people in that city had the virus. Cade stated that he couldn't find out specifically where in the city people had COVID, But the quantity was just enough for the pair, he said that it was amazing so much work could be done with just samples of dirty city water. Within a few days, Cade could have possibly saved lives with dirty water, and that wasn't his only major accomplishment.
By Nayala Conroe
Cade Brown is a junior at Yale. He grew up in Washington state but moved to Connecticut to run in cross country at Yale. He did some important research on COVID. He was in a lab with about 5 people doing the research. It was surprisingly fast; it only took a couple of days. They took some wastewater and did some tests to see how many people in a city had COVID. He said that it's not as specific as individual testing. But we are able to tell on a bigger scale what percentage of a population in a city might be positive and that it's impossible to test everyone, we can save a lot of costs, and we can be ahead of the curve.
By Sahil Lemar
Cade Brown is a junior at Yale who is a very fast and athletic person. He has run many races and found his love for cross country and track in middle school. While Cade is a great runner, off the field is where he helps the world. Cade grew up in Washington State and was invited to Yale where he found a lab with a professor that he knew and he was interested in and worked there with a close friend named. One of the things that he studied was about COVID being present in wastewater. Although it seems very complex it actually only took them a couple of days to do some tests and figure out how many people were infected in a specific city. When one of our reporters asked him where in the city these cases were, Brown said that it was not as specific as individual testing. 
By Dariel Carbonell
What I think about Cade's running was incredible, how Cade could run 6.2 miles in 30 minutes and 19 seconds, and also how Cade played lots of sports like baseball. Also how Cade has all the papers with his numbers from when he raced.
By Haelly Patel
I think that it was cool how Cade put his numbers on his wall and can run really fast for example 6.2 miles in 30 minutes and 19 seconds. And I thought it was interesting how they are doing lab tests on the sewage water because it can give information on diseases, the virus [COVID-19], drugs, and more like Cade described.