Like Magic: Suddenly Vaccines are Everywhere (But did they really arrive out of nowhere?)
We know the story of 2020: A scary new virus started to take over the world.
On March 12, New Haven Mayor Justin Elicker said city schools would close — though at first only for one week. Students were sent home with a few days of schoolwork. Then one week became 15 days, 10 months, then a year in which students could not physically be in school.
Finally, that is changing. And it is thanks to vaccines.
From the start, scientists knew that giving lots and lots of people shots to protect them from the coronavirus was the secret weapon to ending the pandemic. As of April 1, those 16 and over in Connecticut have been eligible to get the vaccine.
Many people are surprised at how fast this has all happened. It was amazingly quick. But the vaccines weren't created out of thin air.
It turns out that scientists have been working on this for a long time — even before Covid existed, said Dr. Richard Martinello, Director of Infection Prevention at Yale New Haven Health.
"I like to think of it as, maybe you've heard people talking about 'Standing on the shoulders of giants,' and that's really what happened here," Dr. Martinello told East Rock Record reporters.
He said that "decades of research were really important" to creating an approach to fighting the virus that could then be made into a vaccine. "There were lots of people, some of them who aren't around, who did lots of work that helped to allow this," said Dr. Martinello.
Vaccines work almost like a boot-camp that trains soldiers. Our immune cells, like soldiers, need to learn how to recognize and then fight off an invader. When that invader — a virus — gets inside our bodies, our immune cells can fight it because they have been trained by vaccines to recognize and eliminate the threat.
Our immune cells know the virus is a threat because of its features. It would be like soldiers able to spot an enemy because of the type of sword the enemy carried. But then imagine that the enemy's sword can pick locks and enter places they shouldn't be.
Now you can see how tricky and dangerous the coronavirus is. It has a dangerous protein, called spike, that is a weapon that enables it to break into and enter human cells. The key to fighting the virus is figuring out how to recognize and neutralize that spike whenever it shows up, like capturing an enemy sword before it can be used to hurt anyone.
The vaccine works by training our immune system to produce little molecules, called antibodies, that attack the spike protein and make the coronavirus powerless.
Then, even if the coronavirus — our enemy — finds its way to us, it will not make us sick. The enemy won't be able to use that sword so it can't do us harm. The idea is that if we train our "soldiers" — our immune system — to identify an invader, it can attack and stop the threat.
This is what the mRNA vaccines by Pfizer-BioNTech and Moderna do. They don't have any parts of the actual virus. Instead they have the code that the coronavirus uses as a blueprint to produce its spike. With those instructions, our body can spot and attack the virus. The Johnson & Johnson vaccine uses a different technology — a disabled adenovirus, more like traditional vaccines — to deliver the instructions to fight the coronavirus, Dr. Martinello explained.
The idea is that if we train our "soldiers" — our immune system — to identify an invader, it can attack and stop the threat.
When the Covid-19 vaccines were created, Dr. Martinello said that there were first many studies to make sure that it would be safe for people — and effective in fighting the virus. Results found that it was.
Now, vaccines have been tested in children. A trial of the Pfizer-BioNTech showed that it was safe and worked very well in those 12-15. Soon, we will have a vaccine for everyone.
The vaccine can have some side effects like fever, headaches or soreness in the area of the shot. But this is not as bad as getting Covid, which can even take away your life. Because older people were getting sicker than younger people, they were put at the front of the line of people waiting to get shots.
Many have been eager to get vaccinated. When educators were prioritized in Connecticut, Sabrina Breland, principal of East Rock Community & Cultural Studies Magnet School, said teachers "were ecstatic. They wanted the vaccine."
When appointment slots opened online, she said, "in less than two minutes the entire form was filled up." Ms. Breland said that "the majority" of staff got the shots — right there at school.
Ms. Breland was not as sure about getting the shot herself. "I was reluctant to get it," she said. As a child, she remembered getting a vaccine that was painful and left a scar on her arm, which she showed to East Rock Reporters during an interview over Zoom.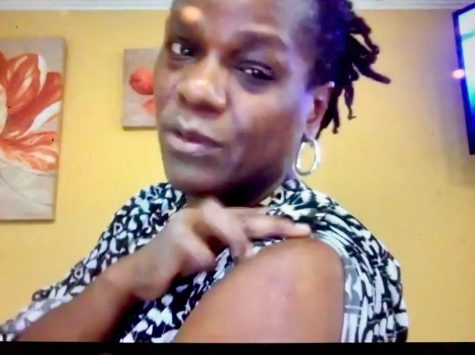 But then, she said she thought about all the vaccines her sons have had and the vaccines students need to get in order to go to school. "So, I said, 'I will give it a try,'" she said. "I want to get out of Hamden and New Haven. I think the vaccine will let me do that."
Ms. Breland received the Moderna vaccine. "It did have my arm sore for a few days," she said.
Students could be the next to get vaccines. Right now, those older than 16 are eligible for the Pfizer vaccine. Because teenagers can only get this type of vaccine, a lot of them are having a hard time finding places with free appointments – there are more people wanting the shots than there are shots for everyone.
James Maciel-Andrews, a former East Rock School student and current East Rock Record mentor who is senior at the Engineering and Science University Magnet School, called to get a vaccine appointment as soon as they opened — but still found himself on hold for 45 minutes before he could speak with someone. Some of his friends were on hold for two hours.
"The majority of us really want to go back in person, so we all really want to get the vaccine," said Mr. Maciel-Andrews. He said students "recognize how important it is to bringing our world back to normal."
What about students at East Rock School? Omar Dweck, grade 8, hopes others get vaccinated, but is unsure about getting it right now. "I would say 'no' because I'd want to see if it's safe first for adults," he said. "I've heard some people who get the vaccine still get COVID."
"The majority of us really want to go back in person, so we all really want to get the vaccine."
Mr. Dweck said he wants to better understand the side effects and would like a vaccine to be made specifically for children.
Many students have similar concerns. According to the East Rock Record Spring 2021 Survey, 81 percent of students said it was important for people to get vaccinated, but only 46 percent of students said they would get the vaccine if it were offered to them right now.
Isabel Faustino, an 8th grader at the Engineering and Science University Magnet School, has two parents who are both medical professionals and work for the Yale-New Haven Health System. She was relieved when her parents received their first vaccine doses towards the end of last year. Before that, she often felt worried knowing that her parents had to go work at the hospital unvaccinated.
"Once they both got the vaccine, I felt much safer having them out of the house and knowing that they were in the hospital," Ms. Faustino said.
Getting lots of people vaccinated is important to stopping the spread of Covid — and letting life get back to some form of normal. But the next question is: Should vaccines be required?
Mayor Elicker told East Rock Record reporters during a press conference that City Hall has "landed on the site of not requiring" workers to get a shot. But he hopes they do. "My sense is there is a little psychology here. If you force someone to do something, they might not do it. But if you approach it as voluntary and emphasize how important it is to get the vaccine," he said, then perhaps people will be "more likely to get the vaccine."
It is too soon to tell if kids will be required to get the vaccine to go back to school — but many of them already dream of the things they would be able to do again once they get their shots.
Ms. Faustino, who is 13, said she would "definitely get" the vaccine when it became available to her. Not only because she thinks it is the right thing to do, she said, but also because as a dancer, who still practices occasionally at her studio, she said she would feel more comfortable going back to interacting with others if everyone was vaccinated.
She said that while she believes her age might place her at a lower risk for getting sick from the virus, she is very concerned that she might get it and spread it to other people.
But while we enthusiastically wait for our vaccines, there are other things that we can still do to keep ourselves and the ones we love safe. Masking up, social distancing and acting responsibly will be important to protect our community while people wait for their turn to get the shot that will end the pandemic.
Edited by Maria Pacheco and Emiliano Goméz