The Winner During Covid? Parks! Nature! The Outdoors!
It has always been fun to be outdoors. But Covid suddenly also made it — safe. Or safer than being inside.
Research shows that the virus doesn't spread as easily out of doors. So, people started eating outside at restaurants, taking walks, visiting parks and using their backyards. Even in the cold.
For students spending hours doing online school, playing outside also offers a break.
"When I go outside, I feel refreshed," said Ayaan Riaz, a fifth grader at East Rock Community and Cultural Studies Magnet School. "The air is safer and the quality is better. You can exercise and have fun without worrying about leaving your garden or backyard."
But for many students who can't go to parks alone, the pandemic has been tough. Parents are busy with jobs and helping children with online school, so they have less time to take them. According to the East Rock Record Spring 2021 Survey, 79 percent of students said they spend more time indoors than they did a year ago.
Many students miss playing outdoors. "I feel like I haven't gone outside in five months, when I usually go outside every day," said Haelly Patel, a 4th grader at East Rock School. "If Covid could end," she said, "I'd go ANYWHERE outside."
The survey also found that 70 percent of students appreciate nature more than they did before Covid. That is also true for East Rock School Principal Sabrina Breland.
"I did a lot more in nature than I have ever done," she said. Ms. Breland bought a bike, and said she has "been biking everywhere." She cycled in Florida, New York and Connecticut. She did a 52-mile bike ride that took six hours.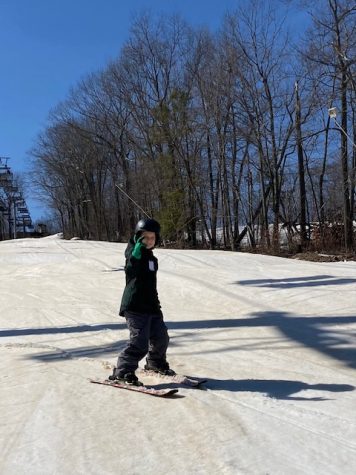 Ms. Breland likes to bike to Lake Wintergreen from her home and said that she now spends more time outdoors. "Because of Covid, it got me more focused on my health and getting fit."
The pandemic changed many people's relationship with nature. It also led to activism around social and racial justice. Brent Peterkin, CEO of Gather New Haven, a nonprofit organization that came from a merger of New Haven Farms and the New Haven Land Trust, said parks and community spaces have roles to play in both.
"If we have a culture of caring about each other, then it is hard for a culture of hate to survive and thrive," said Mr. Peterkin, who used to work in criminal justice. He is both groups' first non-white leader.
He said parks can be a tool to build connections, especially in areas that are over-policed. For example, when some young people caused trouble near a community garden, Mr. Peterkin said it was better to "engage them and get them involved in the community garden" than send them away or call the police.
"If we have a culture of caring about each other, then it is hard for a culture of hate to survive and thrive."
He then reached out to "get some of the older folks to bridge an intergenerational divide," and connect with the younger people. This lets everyone "see what it means to maintain a neighborhood so it can thrive," he said. "We are all connected to one another."
One problem is that "some people believe that folks like me don't belong in parks," said Mr. Peterkin, who is Black. In fact, he said, parks are for everyone.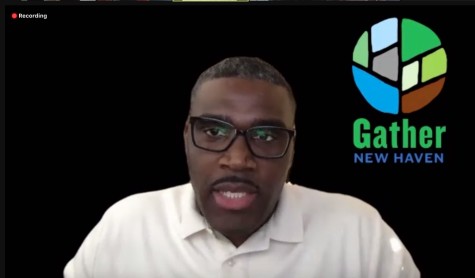 He hopes to get more people to cook and grow their own food. (Mr. Peterkin is a vegan. One of his favorite dishes: sweet potato puree, made with coconut milk and spices.) He also wants to get more young people involved in nature — and caring for the environment.
"We've got to care about our coastlines, we got to care about our water," he said. "If you love nature, it will love you right back so it is our job to protect it."
During the pandemic, many people used time in nature to fight stress. In New Haven, city leaders at first closed playgrounds and recreation facilities like fields and tennis courts to keep people from gathering. Fields were re-opened in July 2020, and tennis courts when Connecticut entered Phase 2, in June 2020; Basketball courts did not re-open until March 2021. The city did not close parks. But to give people more space, the city closed roads, like Farnam Drive in East Rock Park so that more people could visit while keeping socially-distanced.
In school, Ms. Breland said students need breaks. She said they built recess into the schedule — even for students at home. "Students need that social time that they are missing," said Ms. Breland. "Recess is very important to us."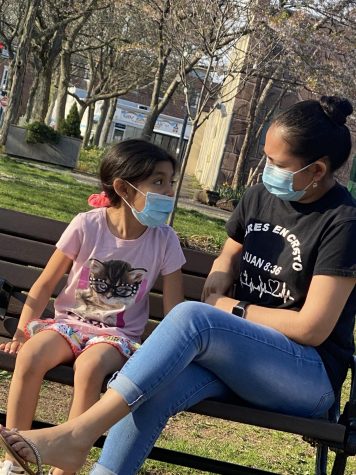 At the school, some recess equipment and playgrounds have been off-limits. Students have invented creative games that fit with social-distancing rules. There are now also "Wellness Wednesdays" so hybrid and remote students can get a break when school buildings are closed.
To help students de-stress, on Wednesdays students get links to activities like puzzles and art tutorials. They help students who may be stressed out, like recess does during the school day.
Wellness Wednesdays also let students get away from the computer and go outside.
Charlie Pellegrino, a third grader at East Rock School, is happier on Wellness Wednesdays. He likes to go outdoors and build things, which has become "one of my hobbies," he said.
"I've been able to do more of it, because I'm at home all the time," Mr. Pellegrino said. "On Wellness Wednesday, I build stuff on my trees: monkey bars, an elevator, a treehouse."
For older students, Wellness Wednesdays are for seeing friends. For most of the week, remote students are taking classes by themselves. But on Wednesdays, students who can walk without their parents mask up and go to parks.
"Students need that social time that they are missing. Recess is very important to us."
"When I'm with my friends, I always do it outside, whether we're just talking or six feet apart," said Isabel Faustino, an eighth grader at Engineering and Science University Magnet School. Ms. Faustino loves nature, but especially loves seeing her friends.
"There are a lot of people focusing on the environment. That's amazing, but I focus on the mental health side of things," she said. "I know the park helps people with stress. Sometimes I really just want to go to the park and walk with my friends."
Younger students are also itching to go outdoors and see their friends again. Mr. Riaz, a remote student, only sees friends on Google Hangouts.
Many remote students who do not have all their friends' phone numbers can't socialize. Before Covid, that used to happen on the playground at school. But until it's safe for all kids to go to school again, it's online games like tic-tac-toe and Pictionary.
Edited by Rianna Turner and Bryanna Moore