Thank You!
Welcome to the newest issue of The East Rock Record. During the pandemic we have sharpened our tech skills and have become adept at working over Zoom. While New Haven Public Schools are in-person, after school activities have been remote. That has not stopped our mentors and reporters from exploring urgent questions, including reflecting on how the pandemic has changed how we do some things. Even as we ache for a "normal" summer, we loved how Covid gave us new habits, like more done outdoors, including time spent in parks, hiking and even outdoor dining. Many want to keep doing those things. At the same time, the stress of shifting pandemic rules and restrictions around in-person socializing have affected student wellbeing. Inside East Rock School, space has been shifted around to allow students in lower grades to have smaller class sizes to help with academic catch-up. Rooms once used for art, music and computer classes are now lower-grade classrooms; the library is being used for storage. Not everyone likes the change. The pandemic is ending, but "normal" is not quite here yet. And may never be.
But one thing is returning and that is our print issue! This spring marks our first print publication since the start of the pandemic — and the first time we have done both a print and online version!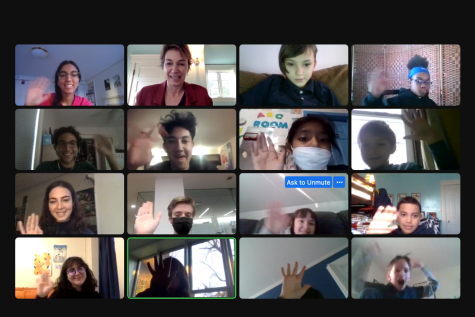 As always, we are grateful to all who have contributed to this issue, particularly Yale's Office of New Haven Affairs, which makes this program possible. Special thank you to Claudia Merson and Maria Parente. We appreciate our supporters, including Yale New Haven Health, which has played a key role during this pandemic for our community and the country. We want to thank our supporters and collaborators, including The Yale Center for British Art, The Diaper Bank (which is helping to distribute our print issue to their community partners) and leaders at East Rock Community & Cultural Studies Magnet School. We offer particular thanks to Principal Sabrina Breland, a steady supporter, generous interviewee — and a key photographer! Despite the many things there are for a school leader to do these days, she gamely gathered the images for our stories. THANK YOU, Ms. Breland!
We are also grateful to all those who made time to be interviewed by our reporters. Our young journalists are curious. We appreciate all those who have joined us to take questions and provide answers.
Enjoy this issue!