Thank You!

Welcome to the new online issue of The East Rock Record. We can thank the pandemic for stretching our tech skills: We conducted all of our brainstorming, interviews, reporting and writing over Zoom. Our reporting teams found fresh ways to gather, replacing a table in the library with a breakout room.
Amid the obvious and persistent pain of this time, our reporters have found joy and opportunity, too. They have become proficient at using backgrounds to transport themselves to tropical isles and outer space. They have, at times, transformed themselves into imaginary creatures.
But in between the playing, they have asked serious questions — about the election, the power of youth leaders in the social justice movement and the effects of climate change. Reporters dove into the flourishing world of digital art. They reflected on how this Covid year has changed them, the school experience — even how they look ahead.
It was not all tough news. One striking finding from our East Rock Record survey was that 78 percent of the 197 students who responded said the pandemic made them enjoy their family more. In fact, students throughout wrote about how they grew closer to siblings and developed new skills.
We are grateful to all who have contributed to this issue, particularly Yale's Office of New Haven Affairs, which makes this site and program possible. Special thank you to Claudia Merson and Sarah Wessler. Huge credit to Kathryn Post, who built this site and laid out this issue!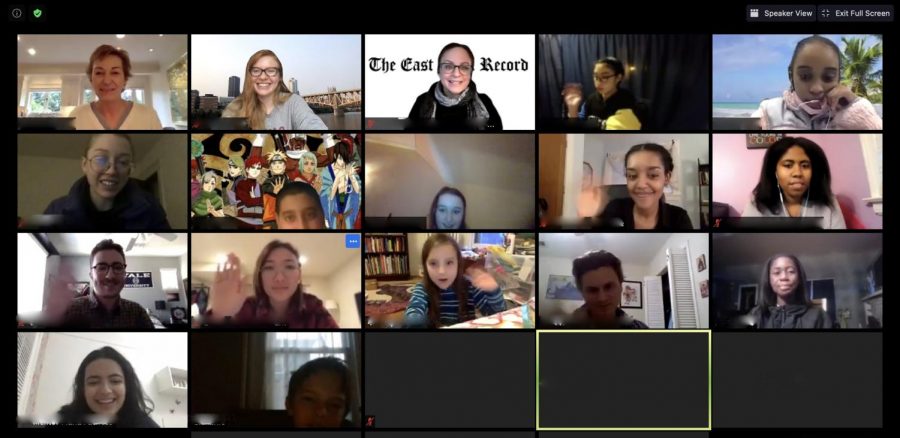 We appreciate our supporters, including Yale New Haven Health, which has played a key role during this pandemic for our community and the country. We want to thank our supporters and collaborators, including Webster Bank, The Yale Center for British Art, The Diaper Bank and Yury Maciel-Andrews and leaders at East Rock Community & Cultural Studies Magnet School (Principal Sabrina Breland, Asst. Principal Leslie White DePriest, Joseph Lewis, Linda Piña-Morris). We are grateful to all those who generously made time to be interviewed by our reporters, from New Haven Public Schools to City Hall and members of the New Haven Community. Thank you!
Please stay safe and we hope this issue brings you joy and information!